Details:
Tennessee Shop Closed Sunday
Georgia Shop Closed Wednesday
Our prizes are the regular 25 fat quarters Plus:
Winner with all eight rows from other shops $25.00 gift certificate
Winner using one of our shops rows $50.00 gift certificate
Winner using both our shop rows $75.00 gift certificate.


All 50 US states and Canada, too!



No passports! No fees!



How about this… a shop hop type event with no fees, no passports and all summer to play? Simply visit any of the participating shops and receive a free pattern for a row in a quilt. Combine your rows in any way to create a unique quilt that represents the fun you had traveling throughout the summer. Travel with friends, discover new quilt shops and have fun collecting rows!

Prizes, collectibles and more fun!

Create a quilt using at least 8 different rows and be the first to bring it into a participating shop to win a stack of 25 fat quarters (6-1/4 yards of fabric!). Use that shop's row in your quilt and win a bonus prize!

Exclusive Fabric Plates by Zebra Patterns will be available in shops around the country. Each one is unique! Collect a bunch to create fun projects, sewing studio wall art or even a fun backing for your quilt.



New this year!

Look for the fun fabric coordinates from Timeless Treasures, collectible 2015 Row by Row Experience pins and other fun items like T-shirts, caps and totes.

Each area has their own Facebook page. Like the page from the areas you visit to see pics of the rows, shop displays, winning quilts and fabric plate projects.



THE ROW BY ROW EXPERIENCE





Row by Row Experience began in 2011 with 20 quilt shops across New York State. In 2012 the event grew to include 62 participating shops. Pennsylvania came on board in 2013 for a total of 138 shops throughout the two states. In 2014 over 1250 quilt shops participated in 34 states and Ontario. Plans are underway for the biggest and best Row by Row Experience ever in 2015! All 50 states and several more Canadian provinces are planning fun for travelers throughout the summer. Although the quilt shops are organized by area, quilters have no borders. Travel, shop, collect patterns and add rows to your quilt from any anywhere!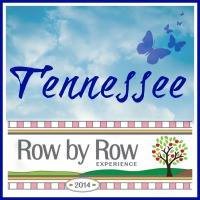 or on Facebook specific to Tennessee
TENNESSEE OFFICIAL ROW BY ROW PIN available at Hyderhangout $5.99 ea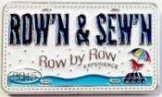 Hyderhangout: Quilt Fabric & More Row by Row Pieced Block




Hyderhangout: Quilt Fabric & More Row by Row Applique Block


One free pattern per customer. Kits are available @ $12.99 each
Hyderhangout License Plate 1

ARE $4.99 EACH

Hyderhangout License Plate 2
The Perfect add-on for your Row - Ocoee River Run Banner $1.50